Jesus: King or Concierge?
With Roy Cantrall
Sundays from 9:30 – 10:30
Thirteen week studies beginning Jan 7
Register for this group now!
Study guides will be ordered through the group.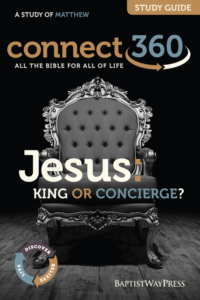 The Gospel of Matthew declares that Jesus Christ is not a concierge but a King who deserves our loyalty and obedience. This study of the Gospel of Matthew will re-awaken us to the majesty of King Jesus and challenge us to submit ourselves to him.